What is the abbreviation for Hawaii state?
HI is the 2 letter abbreviation for Hawaii, the 40th largest state in the United States of America. Hawaii is a state located in West part of U.S.A. Honolulu is the capital city of Hawaii. Major cities include Honolulu (Population: 371668), East Honolulu (Population: 49925), Pearl City (Population: 47709), Hilo (Population: 43274), Kailua (Population: 38646), Waipahu (Population: 38227), Kaneohe (Population: 34608), Mililani Town (Population: 27640), Kahului (Population: 26348), Ewa Gentry (Population: 22701), Kīhei (Population: 20892), and Makakilo (Population: 18259).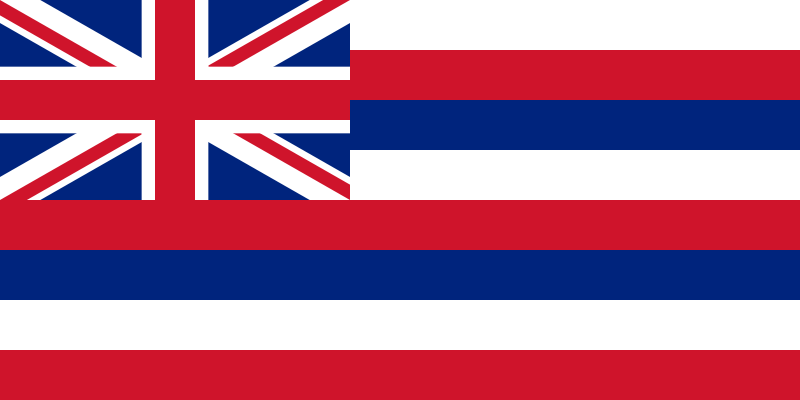 Hawaii State Profile
Capital: Honolulu
Admitted to USA: 1959
Area: 28,313 km2
Population: 1,415,872
Time zone: GMT-10
Calling code: 808
ISO 2-Letter Postal Abbreviation:  HI
State Government Website: http://portal.ehawaii.gov/
Overview
Hawaii has been the 50th state in the United States since August 21, 1959. But this island state is located far from the heartland of the United States in the Pacific. Incidentally, there is Pearl Harbor on the island, which was surprisingly attacked by the Japanese on December 7, 1941 and which ultimately led to the USA's entry into the war. We have described Hawaii with us under Oceania / South Pacific, where it is geographically located. You can find detailed and extensive information on Hawaii under: Oceania / South Pacific – Hawaii. The Internet portal Wikipedia has adopted part of its name from the old word "Wiki" from Hawaiian. Translated into German it means "fast".
List of Hawaii Acronyms
The most commonly used abbreviations about Hawaii are HI which stands for Hawaii. In the following table, you can see all acronyms related to Hawaii, including abbreviations for airport, city, school, port, government, and etc.
| | |
| --- | --- |
| Acronym | Meaning |
| ATAH | Advanced Technology Associates Hawaii |
| ALISH | Agricultural Lands of Importance to the State of Hawaii |
| ALPH | Agricultural Leadership Program of Hawaii |
| APOH | Airsoft Players of Hawaii |
| AHD | Alaska-Hawaii Daylight |
| AHS | Alaska-Hawaii Standard |
| ALAH | American Lung Association of Hawaii |
| AUH | American University of Hawaii |
| AHHA | Anahola Hawaiian Homes Association |
| AHL | Architects Hawaii Ltd |
| AHCC | Association of Hawaiian Civic Clubs |
| BOH | Bank of Hawaii |
| BSHI | Benefit Services of Hawaii Inc. |
| BIH | Bible Institute of Hawaii |
| BBH | Blood Bank of Hawaii |
| BGCH | Boys and Girls Club of Hawaii |
| CSSH | Cactus and Succulent Society of Hawaii |
| CNH | California Nevada Hawaii |
| CHX | California-Hawaii Express |
| CHKA | Chinese Hawaiian Kenpo Academy |
| CICH | Construction Industry Council of Hawaii |
| DITC-H | Defense Information Technology Center, Hawaii |
| DHX | Dependable Hawaiian Express |
| DPFH | Drug Policy Forum of Hawaii |
| EME | Electronic Music Expo Hawaii |
| FCCH | Filipino Chamber of Commerce of Hawaii |
| FHB | First Hawaiian Bank |
| HAITI | Hawaii |
| HA | Hawaii |
| HI | Hawaii |
| HATCH | Hawaii Access to Computerized Health |
| HAATA | Hawaii Activities and Tours Association |
| HAR | Hawaii Administrative Rules |
| HAC | Hawaii Advisory Committee |
| HARC | Hawaii Agriculture Research Center |
| HAC | Hawaii Air Cargo |
| HASA | Hawaii Amateur Surfing Association |
| HAA | Hawaii Aquaculture Association |
| HASP | Hawaii Armed Services Police |
| HABA | Hawaii Association for Behavior Analysis |
| HACNA | Hawaii Association of Certified Nurses Aides |
| HACDL | Hawaii Association of Criminal Defense Lawyers |
| HAHU | Hawaii Association of Health Underwriters |
| HAIS | Hawaii Association of Independent Schools |
| HALS | Hawaii Association of Land Surveyors |
| HANA | Hawaii Association of Nurse Anesthetists |
| HASL | Hawaii Association of School Librarians |
| HAB | Hawaii Association of the Blind |
| HAIA | Hawaii Athletes in Action |
| HATA | Hawaii Athletic Trainers' Association |
| HADA | Hawaii Automobile Dealers Association |
| HACS | Hawaii Aviation Contract Services |
| HBA | Hawaii Baptist Academy |
| HBS | Hawaii Biological Survey |
| HBMF | Hawaii Book and Music Festival |
| HBHC | Hawaii Business Health Council |
| HCCU | Hawaii Central Credit Union |
| HCRC | Hawaii Civil Rights Commission |
| HCALG | Hawaii Coalition Against Legalized Gambling |
| HCASA | Hawaii Coalition Against Sexual Assault |
| HCDA | Hawaii Community Development Authority |
| HCFCU | Hawaii Community Federal Credit Union |
| HCLF | Hawaii Community Loan Fund |
| HCSC | Hawaii Community Services Council |
| HCCME | Hawaii Consortium for Continuing Medical Education |
| HCPS | Hawaii Content and Performance Standards |
| HCRI-RP | Hawaii Coral Reef Initiative Research Program |
| HCTE | Hawaii Council of Teachers of English |
| HCB | Hawaii County Band |
| HCRA | Hawaii Court Reporters Association |
| HCUL | Hawaii Credit Union League |
| HDA | Hawaii Dental Association |
| HDOE | Hawaii Department of Education |
| HDH | Hawaii Department of Health |
| HDOT | Hawaii Department of Transportation |
| HERN | Hawaii Education Research Network |
| HELP | Hawaii Emergency Loan Program |
| HEETI | Hawaii Energy and Environmental Technology Initiative |
| HEPF | Hawaii Energy Policy Forum |
| HEPA | Hawaii Environmental Policy Act |
| HFDC | Hawaii Family Dental Centers |
| HFSC | Hawaii Family Stress Center |
| HFSC | Hawaii Family Support Center |
| HFSC | Hawaii Figure Skating Club |
| HFFA | Hawaii Fire Fighters Association |
| HFMA | Hawaii Food Manufacturer's Association |
| HFCI | Hawaii Forestry and Communities Initiative |
| HFPA | Hawaii Foster Parent Association |
| HFAF | Hawaii Foundation for American Freedoms |
| HGA | Hawaii Grommet Association |
| HHRF | Hawaii Hurricane Relief Fund |
| HIPA | Hawaii Independent Physicians Association |
| HITS | Hawaii Information Transfer System |
| HIG | Hawaii Institute of Geophysics |
| HITT | Hawaii Institute of Information Technology |
| HIMB | Hawaii Institute of Marine Biology |
| HICSS | Hawaii International Conference on System Sciences |
| HIDF | Hawaii International Dance Festival |
| HITA | Hawaii Interpreters and Translators Association |
| HICL | Hawaii Interscholastic Chess League |
| HISC | Hawaii Invasive Species Council |
| HIAC | Hawaii Island Adult Care |
| HICC | Hawaii Island Chamber of Commerce |
| HICA | Hawaii Island Contractors' Association |
| HIPA | Hawaii Island Psychologists Association |
| HJA | Hawaii Jewelers Association |
| HKPL | Hawaii Kai Public Library |
| HKA | Hawaii Karate Association |
| HLA | Hawaii Lai'ieikawai Association |
| HLSA | Hawaii Land Surveyors Association |
| HMA | Hawaii Medical Association |
| HMCE | Hawaii Medical Center East |
| HMCW | Hawaii Medical Center West |
| HMJ | Hawaii Medical Journal |
| HML | Hawaii Medical Library |
| HMSA | Hawaii Medical Service Association |
| HMSO | Hawaii Military Surfing Organization |
| HMSI | Hawaii Modular Space, Inc. |
| HNA | Hawaii Nurses Association |
| HONC | Hawaii Ocean Noise Coalition |
| HOT | Hawaii Ocean Time-Series |
| HOGA | Hawaii Orchid Growers Association |
| HPBC | Hawaii Pacific Baptist Convention |
| HPU | Hawaii Pacific University |
| HPRC | Hawaii Performing Roller Club |
| HPCA | Hawaii Pest Control Association |
| HPD | Hawaii Police Department |
| HPHCA | Hawaii Prepaid Health Care Act |
| HPA | Hawaii Preparatory Academy |
| HPCA | Hawaii Primary Care Association |
| HPA | Hawaii Psychological Association |
| HPA | Hawaii Publishers Association |
| HRTWN | Hawaii Regional Tsunami Warning Network |
| HRID | Hawaii Registry of Interpreters for the Deaf |
| HRD | Hawaii Renewable Development |
| HRCFS | Hawaii Research Center for Futures Studies |
| HRS | Hawaii Revised Statutes |
| HRA | Hawaii Rifle Association |
| HRTL | Hawaii Right to Life |
| HRAP | Hawaii Rules of Appellate Procedure |
| HRCP | Hawaii Rules of Civil Procedure |
| HSDP | Hawaii Scientific Drilling Project |
| HSOD | Hawaii Services on Deafness |
| HSA | Hawaii Skatepark Association |
| HSRC | Hawaii Society for Respiratory Care |
| HSPE | Hawaii Society of Professional Engineers |
| HSRT | Hawaii Society of Radiologic Technologists |
| HSFL | Hawaii Space Flight Laboratory |
| HSBA | Hawaii State Bar Association |
| HSBA | Hawaii State Bodysurfing Association |
| HSCA | Hawaii State Chiropractic Association |
| HSDS | Hawaii State Dressage Society |
| HSNA | Hawaii State Numismatic Association |
| HSSRA | Hawaii State School Readiness Assessment |
| HSSC | Hawaii State Student Council |
| HSTEC | Hawaii State Test of Essential Competencies |
| HSNA | Hawaii Student Nurses Association |
| HTTA | Hawaii Table Tennis Association |
| HTTA | Hawaii Technology Trade Association |
| HTSE | Hawaii Time Share Exchange |
| HTA | Hawaii Tourism Authority |
| HTS | Hawaii Tracking System |
| HTA | Hawaii Transportation Association |
| HTWS | Hawaii Tsunami Warning System |
| HULA | Hawaii Ultimate League Association |
| HURL | Hawaii Undersea Research Lab |
| HVB | Hawaii Visitors Bureau |
| HWWA | Hawaii Water Works Association |
| HWRF | Hawaii Whale Research Foundation |
| HIWG | Hawaii Wing |
| HYSN | Hawaii Youth Services Network |
| HYS | Hawaii Youth Symphony |
| HADT | Hawaii-Aleutian Daylight Time |
| HAST | Hawaii-Aleutian Standard Time |
| HAWC | Hawaii-American Water Company Inc. |
| HACA | Hawaiian Acres Community Association |
| HADS | Hawaiian Air Defense System |
| HANG | Hawaiian Air National Guard |
| HAITI | Hawaiian Airlines |
| HA | Hawaiian Airlines |
| HAL | Hawaiian Airlines |
| HAWS | Hawaiian Area Wideband System |
| HCRA | Hawaiian Canoe Racing Association |
| HCE | Hawaiian Creole English |
| HCCP | Hawaiian Culture Center Project |
| HDT | Hawaiian Daylight Time |
| HEAR | Hawaiian Ecosystems At Risk Project |
| HECO | Hawaiian Electric Company, Inc. |
| HXS | Hawaiian Extreme Sports |
| HICCSC | Hawaiian Inter-Club Council of Southern California |
| HITS | Hawaiian Interisland Telecommunications System |
| HIC | Hawaiian Island Creations |
| HLCC | Hawaiian Lee Counter Current |
| HLF | Hawaiian Longboard Federation |
| HMA | Hawaiian Mission Academy |
| HMS | Hawaiian Monk Seal |
| HOT | Hawaiian Ocean Time |
| HOVE | Hawaiian Ocean View Estates |
| HPP | Hawaiian Paradise Park |
| HSF | Hawaiian Sea Frontier |
| HOIST | Hawaiian Standard Time |
| HST | Hawaiian Standard Time |
| HS | Hawaiian Star |
| HSPA | Hawaiian Sugar Planters' Association |
| HTC | Hawaiian Telephone Company Incorporated |
| HTMC | Hawaiian Trail and Mountain Club |
| HVO | Hawaiian Volcano Observatory |
| HWP | Hawaiian Water Patrol |
| HWN | Hawaiian Wholesale Network |
| HAH | Healthcare Association of Hawaii |
| ITO | Hilo, HI, USA – Hilo Hawaii |
| HHV | Hilton Hawaiian Village |
| HHVH | Hilton Hawaiian Village Hotel |
| HONO | Honolulu, Hawaii |
| PHNL | Honolulu, Hawaii |
| IAHA | Institute for the Advancement of Hawaiian Affairs |
| JAHER | Just Another Hawaiian |
| JAH | Just Another Hawaiian |
| KLH | Ka Lahui Hawaii |
| LUP | Kalaupapa, Molokai, Hawaii |
| KMCBH | Kaneohe Marine Corps Base Hawaii |
| KHH | Kuronbo Hunters of Hawaii |
| LICH | Landscape Industry Council of Hawaii |
| LTCH | Leeward Training Club of Hawaii, Inc. |
| LHM | Look Hawaii Magazine |
| LFAH | Lupus Foundation of America, Hawaii Chapter |
| MHI | Main Hawaiian Islands |
| MJL | MISO Junior League (Hawaii) |
| MAH | Muslim Association of Hawaii |
| NHPI | Native Hawaiian and Pacific Islander |
| NHCAP | Native Hawaiian Culture and Arts Program |
| NHGE | Native Hawaiian Governing Entity |
| NHGRA | Native Hawaiian Government Reorganization Act |
| NHLP | Native Hawaiian Leadership Project |
| NHPS | Native Hawaiian Plant Society |
| NELH | Natural Energy Laboratory of Hawaii |
| NELHA | Natural Energy Laboratory of Hawaii Authority |
| NHCH | North Hawaii Community Hospital |
| OHCNP | Office of Hawaii Child Nutrition Programs |
| OHA | Office of Hawaiian Affairs |
| OHANA | Optical Hawaiian Array for Nanoradian Astronomy |
| PSH | Payroll Services Hawaii |
| PATH | Perinatal Addiction Treatment of Hawaii |
| PCGH | Philippine Cultural Group of Hawaii |
| PRHI | Prince Resorts Hawaii Inc. |
| PUGV-H | Pseudaletia Unipuncta Granulosis Virus, Hawaiian Strain |
| RHB | Royal Hawaiian Band |
| SLH | Session Laws of Hawaii |
| SBH | Small Business Hawaii |
| SHA | Society for Hawaiian Archaeology |
| SHOPO | State of Hawaii Organization of Police Officers |
| STAN | State of Hawaii Tele-Health Access Network |
| SLH | Surf Line Hawaii |
| TH | Territory of Hawaii |
| TORCH | The Ocean Recreation Council of Hawaii |
| THH | Therapeutic Horsemanship of Hawaii |
| WWVH | Time & Frequency Shortwave Radio in Hawaii |
| UGH | Ukulele Guild of Hawaii |
| USOH | United Samoan Organization of Hawaii |
| UOH | University of Hawaii |
| UH | University of Hawaii |
| UHH | University of Hawaii at Hilo |
| UHM | University of Hawaii at Manoa |
| UHK | University of Hawaii Kapiolani |
| UHL | University of Hawaii Library |
| UHSLC | University of Hawaii Sea Level Centre |
| UHM | University of Hawaii, Manoa |
| UH-CREES | Univesity of Hawaii, Cooperative Research, Education and Extension Services |
| WHDT | West Hawaii Dance Theatre |
| WHEA | West Hawaii Explorations Academy |
| WHITE | West Hawaii Today |
| WHT | West Hawaii Today |
| YOH | Young Okinawans of Hawaii |
| YSH | Youth Speaks Hawaii |
View this article in other languages:
Deutsch – Français – 繁體中文