IA is the abbreviation for Iowa, the 31th largest state in the United States of America. Iowa is a state located in West North Central part of U.S.A, bordering Illinois, Minnesota, Missouri, Nebraska, South Dakota, and Wisconsin. Des Moines is the capital city of Iowa. Major cities include Des Moines (Population: 210341), Cedar Rapids (Population: 130416), Davenport (Population: 102593), Sioux City (Population: 82832), Iowa City (Population: 74231), Waterloo (Population: 68471), Ames (Population: 65071), West Des Moines (Population: 64124), Council Bluffs (Population: 62608), Dubuque (Population: 58810), Ankeny (Population: 56775), and Urbandale (Population: 44073).
State Profile
Capital: Des Moines
Admitted to USA: 1846
Area: 145,746 km2
Population: 3,155,070
Time zone: GMT-6
Calling code: 319, 515, 563, 641, 712
ISO 2-Letter Abbreviation:  IA
State Government Website: http://www.iowa.gov/
List of Iowa Acronyms
The most commonly used abbreviations about Iowa are IA which stands for Iowa. In the following table, you can see all acronyms related to Iowa, including abbreviations for airport, city, school, port, government, and etc.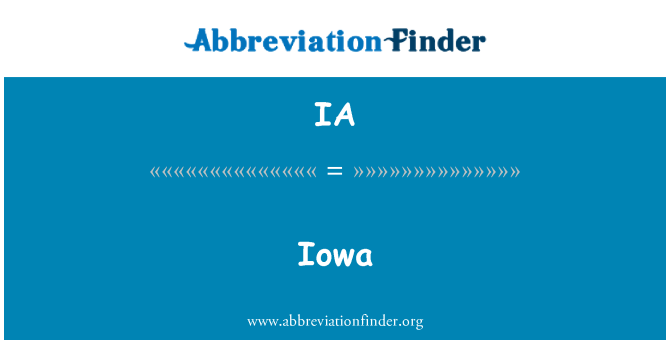 | | |
| --- | --- |
| Abbreviation | Meaning |
| ASI | Advanced Stucco of Iowa |
| AAI | Agribusiness Association of Iowa |
| ASIST | Alumni Seeking Iowa Students |
| APSI | Animal Protection Society of Iowa |
| AI | AnimeIowa |
| AHSI | Arabian Horse Society of Iowa |
| AEI | Art Educators of Iowa |
| APAI | Asphalt Paving Association of Iowa |
| BIC | Bicyclists of Iowa City |
| BCBSI | Blue Cross Blue Shield of Iowa |
| CLIP | Carnegie Libraries in Iowa Project |
| CIC | Cedar Rapids and Iowa City Railway Company |
| CIAA | Central Iowa Apartment Alliance |
| CIAA | Central Iowa Art Association |
| CIBD | Central Iowa Barn Dance |
| CILA | Central Iowa Lacrosse Association |
| CIPEC | Central Iowa Public Employees Council |
| CIS | Central Iowa Symphony |
| CITA | Central Iowa Trail Association |
| CSIF | Coalition to Support Iowa Farmers |
| CHCSI | Community Health Centers of Southern Iowa |
| CIVIC | Council for International Visitors to Iowa Cities |
| DMIA | Des Moines, Iowa |
| EIBB | Eastern Iowa Brass Band |
| EICC | Eastern Iowa Community College |
| EICCD | Eastern Iowa Community College District |
| EIFA | Eastern Iowa Flute Association |
| EIIC | Eastern Iowa Industrial Center |
| EIPS | Eastern Iowa Pond Society |
| EIC | Equitable of Iowa Companies |
| FPCI | Family Planning Council of Iowa |
| FCIB | Friends of Central Iowa Biking |
| GSEI | Global Swine Exchange of Iowa |
| GATI | Great Ape Trust of Iowa |
| GICU | Greater Iowa Credit Union |
| GIRS | Greater Iowa Reef Society |
| GIV | Grow Iowa Values Fund |
| HITT | Healthy Iowans Tobacco Trust |
| IA | Iowa |
| IO | Iowa |
| IAAFP | Iowa Academy of Family Physicians |
| IADA | Iowa Agricultural Development Authority |
| IAAT | Iowa Algebra Aptitude Test |
| IAGA | Iowa Amputee Golf Association |
| IAAAP | Iowa Army Ammunition Plant |
| IAAP | Iowa Army Ammunition Plant |
| IAC | Iowa Arts Council |
| IAPME | Iowa Associated Press Managing Editors |
| IACAC | Iowa Association for College Admission Counseling |
| IADR | Iowa Association for Dispute Resolution |
| IAPT | Iowa Association for Play Therapy |
| IACPR | Iowa Association of Cardiopulmonary Rehabilitation |
| IAEC | Iowa Association of Electric Cooperatives |
| IAFCS | Iowa Association of Family and Consumer Sciences |
| IAMB | Iowa Association of Mortgage Brokers |
| IANA | Iowa Association of Nurse Anesthetists |
| IANS | Iowa Association of Nursing Students |
| IAPFC | Iowa Association of Professional Fire Chiefs |
| IAD | Iowa Association of the Deaf |
| IATO | Iowa Association of Track Officials |
| IAWC | Iowa Association of Workers' Compensation Lawyers, Inc. |
| IBA | Iowa Bandmasters Association, Inc |
| ISOBUTANOL | Iowa Bandmasters Association, Inc |
| IBMC | Iowa Bankers Mortgage Corporation |
| IBS | Iowa Barbeque Society |
| IBF | Iowa Barn Foundation |
| IBON | Iowa Board of Nursing |
| IBN | Iowa Board of Nursing |
| IBPE | Iowa Board of Pharmacy Examiners |
| IBSSS | Iowa Braille and Sight Saving School |
| IBHA | Iowa Buckskin Horse Association |
| IBEA | Iowa Business Education Association |
| ICC | Iowa Cancer Consortium |
| ICA | Iowa Cattlemen's Association |
| ICRU | Iowa Center for Research by Undergraduates |
| ICCC | Iowa Central Community College |
| IACH | Iowa Chapter |
| ICBA | Iowa Character Builder Awards |
| ICAPP | Iowa Child Abuse Prevention Program |
| ICCA | Iowa Children's Choice Award |
| ICPA | Iowa Chiropractic Patient Association |
| ICDA | Iowa Choral Directors Association, Inc. |
| ICELAND | Iowa City |
| IC | Iowa City |
| ICAD | Iowa City Area Development Group, Inc. |
| ICCT | Iowa City Community Theatre |
| ICCC | Iowa City Cycling Club |
| ICHEN | Iowa City Home Education Network |
| ICPL | Iowa City Public Library |
| ICRC | Iowa Civil Rights Commission |
| ICPA | Iowa Class Preservation Association |
| ICLA | Iowa Club Lamb Association |
| ICHR | Iowa Coalition for Human Rights |
| ICLA | Iowa Commission of Latino Affairs |
| ICVA | Iowa Commission of Veterans Affairs |
| ICSAA | Iowa Commission on the Status of African-Americans |
| ICSW | Iowa Commission on the Status of Women |
| ICN | Iowa Communications Network |
| ICAA | Iowa Community Action Association |
| ICAAC | Iowa Community College Athletic Conference |
| ICPA | Iowa Concrete Paving Association |
| ICCCC | Iowa Consortium for Comprehensive Cancer Control |
| ICSS | Iowa Cooperative Soil Survey |
| ICEA | Iowa Council for Early ACCESS |
| ICSBA | Iowa Council of School Board Attorneys |
| ICTE | Iowa Council of Teachers of English |
| ICAA | Iowa County Attorneys Association |
| ICA | Iowa Coursing Association |
| ICRA | Iowa Court Reporters Association |
| ICPA | Iowa Crime Prevention Association |
| ICIA | Iowa Crop Improvement Association |
| IDPA | Iowa Dairy Products Association |
| IDED | Iowa Department of Economic Development |
| IDEA | Iowa Department of Elder Affairs |
| IDOJ | Iowa Department of Justice |
| IDOL | Iowa Department of Labor |
| IDPH | Iowa Department of Public Health |
| IDRF | Iowa Department of Revenue and Finance |
| IDCRC | Iowa Depression and Clinical Research Center |
| IDL | Iowa Digital Library |
| IDLA | Iowa Distance Learning Association |
| IEMA | Iowa Educational Media Association |
| IEBA | Iowa Elk Breeders Association |
| IEMD | Iowa Emergency Management Division |
| IES | Iowa Engineering Society |
| IERN | Iowa Equine Rescue Network |
| IEC | Iowa Events Center |
| IFFD | Iowa Falls Family Dentistry |
| IFRN | Iowa Family Resource Network |
| IFSA | Iowa Financial Services Association |
| IFIS | Iowa Flood Information System |
| IFLA | Iowa Foreign Language Association |
| IFLAS | Iowa Foreign Language Association |
| IFAPA | Iowa Foster and Adoptive Parents Association |
| IGO | Iowa Geocachers Organization |
| IGIC | Iowa Geographic Information Council |
| IGRA | Iowa Good Roads Association |
| IGI | Iowa Governor's Institute |
| IHOP | Iowa Hall of Pride |
| IHSA | Iowa Head Start Association |
| IHS | Iowa Health System |
| IHC | Iowa Healthcare Collaborative |
| IHDC | Iowa Heritage Digital Collection |
| IHA | Iowa Hospital Association |
| IIC | Iowa Institute for Cooperatives |
| IIEP | Iowa Intensive English Program |
| IITA | Iowa Interpreters and Translators Association |
| IAIS | Iowa Interstate Railroad System |
| IJH | Iowa Juvenile Home |
| ILCC | Iowa Lakes Community College |
| ILEC | Iowa Lakes Electric Cooperative |
| ILR | Iowa Law Review |
| ILOC | Iowa League of Cities |
| ILTC | Iowa Learning Technology Commission |
| ILAW | Iowa Legal Aid Website |
| ILA | Iowa Library Association |
| IMHA | Iowa Manufactured Housing Association |
| IMMAG | Iowa Manure Management Action Group |
| IMGA | Iowa Meat Goat Association |
| IMPA | Iowa Meat Processors Association |
| IMS | Iowa Medical Society |
| IMU | Iowa Memorial Union |
| IMMAA | Iowa Mennonite Mutual Aid Association |
| IMHCA | Iowa Mental Health Counselors Association |
| IMMC | Iowa Methodist Medical Center |
| IMSN | Iowa Methodist School of Nursing |
| IMHC | Iowa Miniature Horse Club |
| IMPA | Iowa Motion Picture Association |
| IMTA | Iowa Motor Truck Association |
| IMA | Iowa Museum Association |
| IMEA | Iowa Music Educators Association |
| IMTA | Iowa Music Teachers Association |
| INGOA | Iowa National Guard Officers Association |
| INAI | Iowa Natural Areas Inventory |
| INS | Iowa Network Services, Inc. |
| INRC | Iowa Nonprofit Resource Center |
| IANR | Iowa Northern Railway Co. |
| INUG | Iowa Notes Users Group |
| INA | Iowa Nurses' Association |
| IOSH | Iowa Occupational Safety and Health |
| IOAPA | Iowa Online Advanced Placement Academy |
| IOWA | Iowa Online Warrants & Articles |
| IOPI | Iowa Oral Performance Instrument |
| IPTA | Iowa Parent-Teacher Association |
| IPTA | Iowa Physical Therapy Association |
| IPAS | Iowa Physician Assistant Society |
| IPMS | Iowa Podiatric Medical Society |
| IPPA | Iowa Pork Producers Association |
| IPN | Iowa Prairie Network |
| IPPA | Iowa Press Photographers Association |
| IPAL | Iowa Private Academic Libraries |
| IPCCC | Iowa Private College Career Consortium |
| IPERS | Iowa Public Employees Retirement System |
| IPPA | Iowa Public Power Agency |
| IPPA | Iowa Public Procurement Association |
| IPS | Iowa Public Service |
| IPTV | Iowa Public Television |
| IPTA | Iowa Public Transit Association |
| IPO | Iowa Publications Online |
| IPTA | Iowa Pupil Transportation Association |
| IPSC | Iowa Purebred Swine Council |
| IQB | Iowa Quality Beef |
| IQC | Iowa Quality Center |
| IQPPS | Iowa Quality Preschool Program Standards |
| IRGC | Iowa Racing and Gaming Commission |
| IRFA | Iowa Renewable Fuels Association |
| IRCCC | Iowa Respite and Crisis Care Coalition |
| IRF | Iowa Retail Federation |
| IRCA | Iowa Roofing Contractors Association |
| ISACA | Iowa School Age Care Alliance |
| ISCAP | Iowa School Cash Anticipation Program |
| ISCA | Iowa School Counselors Association |
| ISD | Iowa School for the Deaf |
| ISPA | Iowa School Psychologists Association |
| ISOS | Iowa Secretary of State |
| ISIA | Iowa Sheep Industry Association |
| ISFA | Iowa Society of Financial Analysts Inc |
| ISHA | Iowa Society of Healthcare Attorneys |
| ISU | Iowa Southern Utilities |
| ISA | Iowa Soybean Association |
| ISPB | Iowa Soybean Promotion Board |
| ISAC | Iowa State Association of Counties |
| ISACA | Iowa State Association of County Auditors |
| ISBT | Iowa State Bank and Trust Company |
| ISBA | Iowa State Bar Association |
| ISBS | Iowa State Button Society |
| ISEA | Iowa State Educational Association |
| ISF | Iowa State Fair |
| ISHC | Iowa State Highway Commission |
| ISHPO | Iowa State Historical Preservation Office |
| ISCC | Iowa State Sailing Club |
| ISU | Iowa State University |
| ISUCF | Iowa State University Cyclone Football |
| ISULL | Iowa State University Limnology Laboratory |
| ISURP | Iowa State University Research Park |
| ISHA | Iowa Stock Horse Association |
| ISCA | Iowa Student Computer Association |
| ISCA | Iowa Student Computing Alumni |
| ISIS | Iowa Student Information System |
| ITS | Iowa Talent Search |
| ITAG | Iowa Talented and Gifted Association |
| ITRL | Iowa Tax Research Library |
| ITOP | Iowa Teachers of Psychology |
| ITEC | Iowa Technology and Education Connection |
| IT | Iowa Telecom |
| ITA | Iowa Telecommunications Association |
| ITS | Iowa Telecommunications Services Inc |
| ITBS | Iowa Test of Basic Skills |
| ITED | Iowa Test of Educational Development |
| ITFT | Iowa Thin Film Technologies |
| ITSB | Iowa Trust and Savings Bank |
| ITGP | Iowa Tuition Grant Program |
| IU | Iowa University |
| IUB | Iowa Utilities Board |
| IVCCD | Iowa Valley Community College District |
| IVH | Iowa Veterans Home |
| IVMA | Iowa Veterinary Medical Association |
| IVRS | Iowa Vocational Rehabilitation Services |
| IWE | Iowa Waste Exchange |
| IWRC | Iowa Waste Reduction Center |
| IWPA | Iowa Water Pollution Association |
| IWWA | Iowa Water Well Association |
| IWD | Iowa Web Design |
| IWC | Iowa Wesleyan College |
| IWCC | Iowa Western Community College |
| IWD | Iowa Workforce Development |
| IWLA | Iowa World Language Association |
| IYC | Iowa Youth Chorus |
| IC-AND-E | Iowa, Chicago & Eastern Railroad |
| ICE | Iowa, Chicago and Eastern Railroad Corporation |
| IITI | Iowa-Illinois Taylor Insulation |
| JIAS | Journal of the Iowa Academy of Science |
| JISMS | Journal of the Iowa State Medical Society |
| KW | Kiowa Warrior |
| KEI | Kodály Educators of Iowa |
| KIR | Krajowa Izba Rozliczeniowa SA |
| LLLI | La Leche League of Iowa |
| LSI | Lutheran Services in Iowa |
| MAUI | Made at the University of Iowa |
| MIALT | Mid-Iowa Achievement Level Test |
| MICA | Mid-Iowa Community Action, Inc |
| MINE | Mid-Iowa Narcotics Enforcement |
| MUT | Muscatine Municipal Airfield, Iowa |
| NRPC | National Radiowave Propagation Committee |
| NIEC | Nebraska Iowa Electrical Council |
| NCIGP | North Central Iowa Growth Partnership |
| NIACC | North Iowa Area Community College |
| NICL | North Iowa Cedar League |
| NIFA | North Iowa Fair Association |
| NIRHA | North Iowa Regional Housing Authority |
| NIVC | North Iowa Vocational Center |
| NICC | Northeast Iowa Community College |
| NISOM | Northeast Iowa School of Music |
| NITI | Northeast Iowa Technical Institute |
| NICC | Northern Iowa Children's Choir |
| NIDC | Northwest Iowa Dialysis Center |
| NISO | Northwest Iowa Symphony Orchestra |
| NWIT | Northwest Iowa Telephone |
| NIT | Northwest Iowa Transportation, Inc. |
| PMCI | Petroleum Marketers and Convenience Stores of Iowa |
| PPGI | Planned Parenthood of Greater Iowa |
| PFI | Practical Farmers of Iowa |
| PCAI | Prevent Child Abuse Iowa |
| PIN | Progressive Iowa Network |
| RIIF | Rebuild Iowa Infrastructure Fund |
| RASCI | Regional Anesthesia Study Center of Iowa |
| RAGBRAI | Register's Annual Great Bicycle Ride Across Iowa |
| SLSI | Society of Land Surveyors of Iowa |
| SICL | South Iowa Cedar League |
| SIOA | Southeast Iowa Officials Association |
| SIEC | Southern Iowa Electric Cooperative |
| SBAI | Spina Bifida Association of Iowa |
| SAPIC | State Association for the Preservation of Iowa Cemeteries |
| SUI | State University of Iowa |
| TIBE | The Iowa Biennial Exhibition |
| TICC | Trans-Iowa Canal Company |
| UNIT | Universal Network of Iowan Timelords |
| UOFI | University of Iowa |
| UOI | University of Iowa |
| UI | University of Iowa |
| UIAC | University of Iowa Antiwar Committee |
| UIBC | University of Iowa Back Care |
| UICHR | University of Iowa Center for Human Rights |
| UICB | University of Iowa Center for the Book |
| UICD | University of Iowa College of Dentistry |
| UICM | University of Iowa College of Medicine |
| UIHC | University of Iowa Hospitals and Clinics |
| UIRF | University of Iowa Research Foundation |
| UISSW | University of Iowa School of Social Work |
| UISA | University of Iowa Student Association |
| UNI | University of Northern Iowa |
| UIU | Upper Iowa University |
| VTWI | Virtual Train Watching in Iowa |
| VOICE | Voter Owned Iowa Clean Elections |
| WWT | Warioware Touched |
| WWT | Warioware Twisted! |
| WHPI | Wellmark Health Plan of Iowa |
| WIDA | Western Iowa Dairy Alliance |
| WIDA | Western Iowa Development Association |
| WIT | Western Iowa Tech |
| WITC | Western Iowa Tech Community College |
| WITA | Western Iowa Telephone Association |
| WITR | Western Iowa Tourism Region |
| WIMI | Wisconsin, Minnesota, Illinois, and Iowa |