Madrid
Madrid is majestic and hospitable. The city has been the capital of Spain since 1562, and is the highest located capital of Europe (with the exception of Andorra la Vella).
With its pleasant climate, Madrid is a year-round destination. In Madrid you will find great architecture, museums, parks and wonderful food as well as a hectic and exciting night life and good shopping.
The city is large in both circumference and population (about 3.1 million), but it is astonishing how easy it is to find peace of mind in Madrid despite this. Be aware that it can get very hot in Madrid in the summer and that the nights can be long. People in Madrid tend to be awake all night.
Madrid is a fantastic city for all categories of travelers. Whether you are traveling with children, planning a cultural weekend, a weekend romance or just want to hang out with good friends, Madrid is one of the best choices you can make. Great trip to Madrid!
Get to know Madrid
In other words, Madrid is in the middle of Spain and is quite far south in Europe. Madrid is high, 646 meters above sea level. This gives cool winters, but still good enough temperature for a visit. Madrid is surrounded by both mountains and forests, and you will find more than 20 golf courses near the city. The city's history dates back to the 9th century, and it is influenced by Arab culture.
Like almost all major cities, Madrid has a river that flows through the city. It's called Manzanares. Madrid street names usually begin with the word calle (meaning street). We can say that all the main streets lead to the Plaza Mayor, in the Puerta del Sol district.
Madrid is a very big city and it can be divided in several ways. We concentrate on downtown neighborhoods. The city center is a very old area, and Madrid is not as structured and square as many other European big cities.
City Profile
Abbreviation: MAD
Country: Spain
Puerta del Sol in Madrid
Puerta del Sol is the heart of Madrid, but it is not in the center of the city center. We still use Puerta del Sol as our starting point in Madrid, since "all" the main streets start in this area. It may also seem like most pickpockets are here, so watch out for wallets and purses.
Plaza Mayor is a place everyone visits, and you will find many traditional Spanish restaurants. Follow the street Calle Mayor until you reach Calle de Alcala. This street leads you to Las Ventas, the bullring's cathedral. Calle Arenal leads to the royal family's castle and the city's opera.
Gran Via in Madrid
North and northwest of Puerta del Sol is the Gran Via area, which is known for shops and shopping as well as hotels of all price ranges. Gran Via and adjoining streets are full of life all day, and it is no problem to spend several hours here.
Malasana in Madrid
Further north of Gran Via you will find the Malasana area. Malasana is in many ways the youth of Madrid, with lively and densely populated bars, clubs and eateries. Plaza del Dos de Mayo is the heart of the district. You may find the most affordable and value-for-money hotels in the Malasana area.
Chueca in Madrid
Chueca is an area linked by Gran Via, Calle Hortaleza and Calle Alfonso VI. The area is located east of Malasana. This is perhaps the most cosmopolitan neighborhood of Madrid. Here, it is teeming with nightclubs and bars, and the area has become very crowded with gays.
Chueca offers great eateries (both affordable and expensive) and here you will find most and best shoe stores in Madrid.
Alonso Martinez in Madrid
North and northeast of Chueca lies the Alonso Martinez area. It is a natural hub because it is close to the bus terminal. Here you will find many tapas bars, restaurants and nightclubs. It is a 10-minute walk to Madrid's shopping areas. The heart of the Alonso Martinez area is the Plaza de Santa Barbara.
Salamanca in Madrid
East of Chueca you will find the Salamanca area. Salamanca is one of the few neighborhoods in Madrid that has a clear structure. Here the streets run parallel and in quarters. The main streets are Calle de Serrano and Calle de Goya. The area is next door to Retiro Park, which is a natural place for relaxation. The area has several good hotels and also some restaurants.
Paseo Prado in Madrid
Just south of Salamanca you will find Paseo Prado. The area runs from Plaza de la Cibeles and ends at the Retiro Park and Salamanca area. You must visit this area, not least because of the Prado Museum.
Las Cortes in Madrid
West of Paseo Prado is Las Cortes and west of Las Cortes you can return to Puerto Sol, which we were told was Madrid's centerpiece. Las Cortes is home to the Parliament and the Zarzuela Theater. Las Cortes is a quiet area to be in the center of Madrid, and you will find several cozy tapas bars here.
Huertas in Madrid
We end our downtown photo with Huertas, an area south of Las Cortes which is just five minutes walking distance to Puerto Sol. The area has many hotels of all price ranges and is popular with tourists, not least because of its nightlife. The area has a slightly older audience than, for example, Malesana. You will find many traditional tapas bars, theaters and small jazz clubs in Huertas.
Madrid and culture
Madrid is a cultural city and you will find an extensive range of classical music, opera and theater. Madrid's residents are very proud of their bullfighting, and Madrid is the world's most important bullfighting city. This is where the best athletes perform.
Shopping is great in Madrid and you will find most of it in the Salamanca area, around Calle de Serrano. Here you will find all the most important design shops, but also more general fashion stores for clothing and interiors. The antique shops can be found at the Rastro Market ( Calle Ribera de Curtidores ).
Facts about Madrid
Madrid may not be the most popular tourist city for Norwegians. After all, the city is in the middle of the country.
But Madrid is not the capital of Spain for nothing, and the country's largest city has more to offer than any other Spanish city. So basta!
| | |
| --- | --- |
| Population | About. 3.2 million |
| Official languages | Spanish. Download free Norwegian-Spanish dictionary here. |
| Control Form | monarchy |
| Religion | Roman Catholic |
| Time Difference | No |
| Currency | Euro. Most credit cards (Visa, Master, Diners, AmEx) are accepted in most places. ATMs are available almost everywhere. |
| Tips | Tips are included at bars and restaurants, besides it is optional if you want to give some coins extra. |
| Embassy | The Embassy of Norway is located at Edificio La Piramide, Paseo de la Castellana 31, 9 piso, 28046 Madrid. Tel: +34 91 310 3116 |
| Tourist | Plaza Mayor 3 |
| Telephone | 34 |
| Emergency | 112 |
| Electricity | 220/240 volts, the same two-pin contact system as in Norway |
| Holidays and Holidays | January 6, August 15, October 12 (National Day), November 1, December 6 (Constitution Day) |
| Visa | Not required for Norwegians |
| Vaccinations | No vaccines are required |
| Water | Can be drunk from the tap, but not recommended. Fine toothbrush |
| Nearest major cities | Valladolid, Zaragoza, Valencia, Bilbao |
| Safety | Slightly violent crime, but beware of pickpockets and scammers. |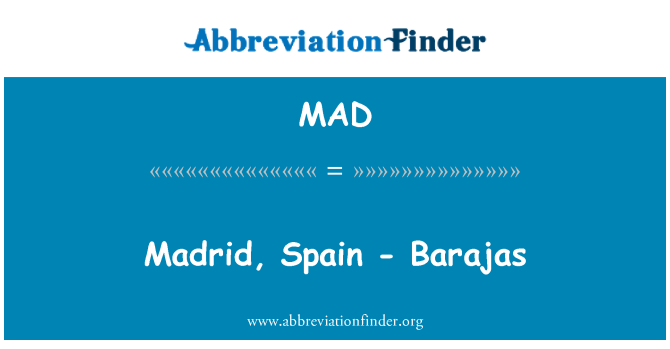 List of Madrid Acronyms
The most commonly used abbreviations about Madrid is MAD which stands for Madrid. In the following table, you can see all acronyms related to Madrid, including abbreviations for airport, city, school, port, government, and etc.