Malabo, until 1973 Santa Isabel, capital of Equatorial Guinea, on the north coast of the island of Bioko, (2015) 257,000 residents.
Catholic Archbishop's Seat; good natural harbor (volcanic crater), international airport.
Malabo was founded in 1827 as the British naval base Port Clarence to combat the slave trade. In 1843, Spain reaffirmed its formal sovereignty, which had existed since 1778 (renamed Santa Isabel).
Bioko, 1973-79 officially Isla Macías Nguema [ IZL ɑ ma θias e ŋ gema], before Fernando Póo, volcanic island in the Gulf of Guinea, 35 km from the coast of Cameroon, 2,017 km 2 145 900 residents; belongs to Equatorial Guinea and consists of the provinces Bioko Norte (776 km 2, 132 700 residents) and Bioko Sur (1 241 km 2, 13,200 residents). The island of Bioko rises in Pico Basile, which is almost always in cloud banks, to 3,008 m above sea level. As a result of the hot and humid climate, it is almost entirely covered by rainforest. Only the approximately 1,000 m high mountainous area of ​​Moca in the southeast is free of forests. Indigenous people are the Bubi; They make up the majority of the population with 60%, the others are descendants of English-speaking Creoles, the "Fernandinos". Colloquial language in Bioko is Pidginenglisch. Main exports: cocoa, coffee, wood; The main port and administrative seat of the island as well as the capital of Equatorial Guinea is Malabo. – History: Equatorial Guinea.
City Profile
Abbreviation: SSG
Country: Equatorial Guinea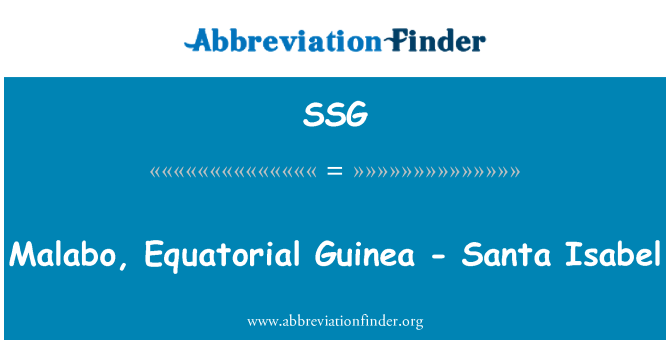 List of Malabo Acronyms
The most commonly used abbreviations for Malabo is SSG which stands for Malabo. In the following table, you can see all acronyms related to Malabo, including abbreviations for airport, city, school, port, government, and etc.