RSW is the abbreviation code for Fort Myers – Southwest Florida International. According to Abbreviation Finder, RSW can also mean: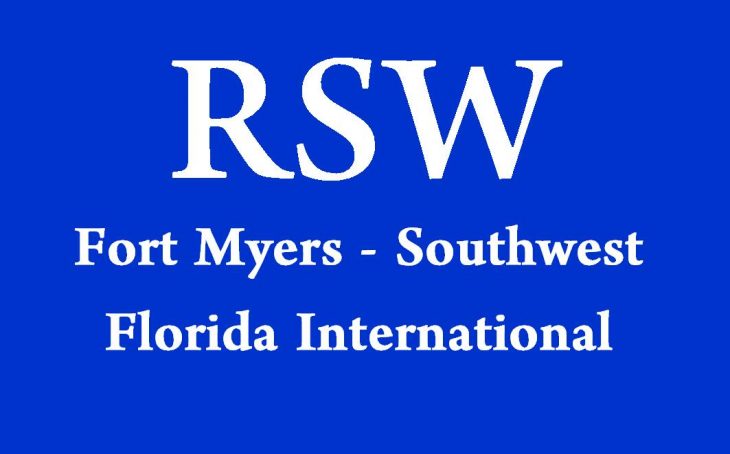 Fort Myers Airport – Southwest Florida Int. Airport (RSW)
The Fort Myers – Southwest Florida International, located near Fort Myers in Lee County County, southwest Florida. It is one of the 50 largest airports in the United States in terms of traffic volume.
URL: Fort Myers – Southwest Florida Int. Airport (RSW)
Time zone: GMT -5
Service phone: +1 239 590-4800
Address: Southwest Florida International Airport, 11000 Terminal Access Road, Suite 8671, Fort Myers, Florida 33913-8213, USA
Operator: Lee County Port Authority
Parking: Yes, subject to a charge, approx. 11250 short and long-term parking spaces, but the first 20 minutes are free.
Nearby cities: Cape Coral (20 km)
Transport links: The airport is located directly on Interstate Highway 75 at exit # 131.
Train connections: The closest possible Amtrak station is located approx. 100 kilometers further northeast in Sebring, from where there is a connection with the "Silver Meteor" and the "Silver Star".
Flight distribution on the days of the week: Monday (14.29%), Tuesday (13.59%), Wednesday (13.84%), Thursday (14.58%), Friday (14.44%), Saturday (14.58%), Sunday (14.68%)
other spellings: Fort Myers-Southwest Florida Reg-FL, Fort Majer, Форт Мајерс, Форт-Маерс, Форт Майерс- Саузвест Флорида, פורט מאיירס, फोर्ट मायर्स, فورت مایرز, فورت مايرز,フォートマイヤーズ-サウスウエスト·フロリダ,邁爾斯堡, 麥爾茲 堡 – 佛罗里达 州
Most popular destinations from Fort Myers – Southwest Florida Int. Airport (flights per week)
Atlanta International Airport (91, 16.02%)
Chicago Midway International Airport, IL (32, 5.63%)
Philadelphia International Airport, PA (31, 5.46%)
Baltimore – Washington International Thurgood Marshall Airport, MD (30, 5.28%)
Charlotte Douglas International Airport, NC (29, 5.11%)
Dallas – Fort Worth International Airport, TX (25, 4.40%)
New York – Newark Liberty International Airport, NJ (24, 4.23%)
Detroit Metropolitan Wayne County Airport, MI (24, 4.23%)
Washington DC – Ronald Reagan National Airport, VA (22, 3.87%)
Boston Logan International Airport, MA (19, 3.35%)
Other (42.42%)
Top airlines (share of take-offs / landings)
Southwest Airlines (397, 18.72%)
Aeroméxico (112, 5.28%)
British Airways (98, 4.62%)
Delta Air Lines (97, 4.57%)
American Airlines (93, 4.38%)
KLM (90, 4.24%)
Air France (85, 4.01%)
Virgin Atlantic Airways (82, 3.87%)
Frontier Airlines (74, 3.49%)
Westjet (70, 3.30%)
Other (43.52%)
Location
The airport, which went into operation in 1983, is located east of Fort Myers directly on Interstate Highway 75. Motorists coming from outside the city should take I-75 to exit # 131 and then follow the signs to the airport.
The bus route # 50 of the local public transport company LeeTran runs daily from Fort Myers Downtown. Please inquire about the current departure times on site.