SDF is the abbreviation code for Louisville International Airport. According to Abbreviation Finder, SDF can also mean: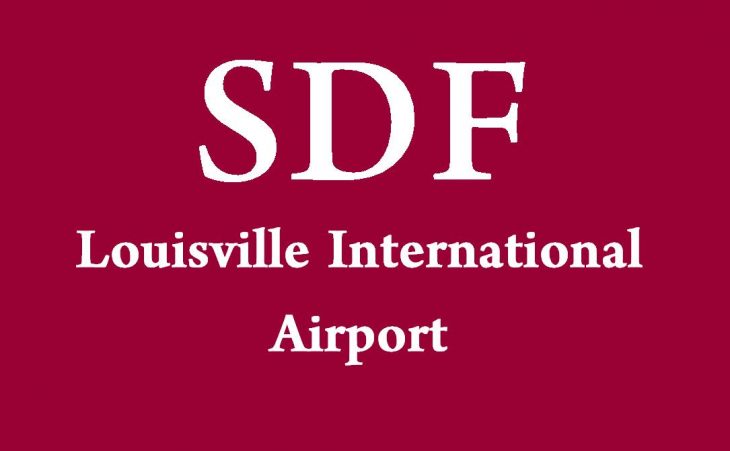 Louisville International Airport, KY (SDF)
The Louisville International Airport is in the US city of Louisville / Kentucky situated airport. Instead of the airport built as Standiford Field in 1941, Bowman Field was Louisville's main airport for a long time. Due to the increasing number of passengers and freight, Louisville Airport was given its current name in 1995.
URL: Louisville International Airport, KY (SDF)
Time zone: GMT -5
Service phone: +1 502 367-4636
Address: Louisville International Airport, 600 Terminal Drive, Louisville, KY 40209, USA
Operator: Louisville Regional Airport Authority (LRAA)
Parking spaces: yes, subject to a charge; 5625 short-term and long-term parking spaces, including a 4-storey parking garage
Nearby cities: Louisville (9 km)
Accessibility: Interstate I-71 or I-65, I-264 (exit 131) or I-64 to I-264 (exit 11)
Train connections: The nearest possible Amtrak Rail Station is about 150 kilometers northeast in Cincinnati, from where there is a connection to the "Cardinal", which runs from Chicago to New York City.
Flight distribution by weekdays: Monday (14.80%), Tuesday (13.96%), Wednesday (14.52%), Thursday (15.07%), Friday (15.29%), Saturday (11.72%), Sunday (14.63%)
other spellings: Louisville Airport, Standiford Field, Луисвилл (Кентукки), Луїсвілл, Λούισβιλ, Луисвилль, Луїсвілль, Луісвілля,路易斯维尔,ルイビル, 루이빌,路易維爾 (肯塔基州) ห ลุย ส์ วิ ล ล์, लुईव्हिल, ლუისვილი, Լուիսվիլ, 路易斯維爾, 루이스 빌, ลุย วิ ล ล์, لوئیزویل, لويفيل ، كنتاكي, لویی‌ویل, לואיוויל
Favorite flight destinations from Louisville International Airport, KY (flights per week)
Atlanta International Airport (63, 9.05%)
Charlotte Douglas International Airport, NC (63, 9.05%)
Dallas – Fort Worth International Airport, TX (48, 6.90%)
New York – La Guardia Airport, NY (41, 5.89%)
Detroit Metropolitan Wayne County Airport, MI (39, 5.60%)
Denver International Airport, CO (39, 5.60%)
Baltimore – Washington International Thurgood Marshall Airport, MD (31, 4.45%)
Philadelphia International Airport, PA (31, 4.45%)
Chicago Midway International Airport, IL (29, 4.17%)
Houston – George Bush Intercontinental Airport, TX (24, 3.45%)
Other (41.39%)
Top airlines (share of take-offs / landings)
Southwest Airlines (437, 17.62%)
American Airlines (373, 15.04%)
Virgin Atlantic Airways (140, 5.65%)
Aeroméxico (136, 5.48%)
KLM (117, 4.72%)
Delta Air Lines (110, 4.44%)
United Airlines (104, 4.19%)
Westjet (86, 3.47%)
Air France (78, 3.15%)
Korean Air Lines (72, 2.90%)
Other (33.34%)
Location
Louisville International Airport is conveniently located at the intersection of Interstate I-65 and Interstate I-264. Lousiville Airport can also be reached from Preston Highway via Phillips Lane, which you follow west to turn left onto Freedom Way, where signs point the way to the airport.